Jogos da Games With Gold serão retrocompatíveis; confira lista de novembro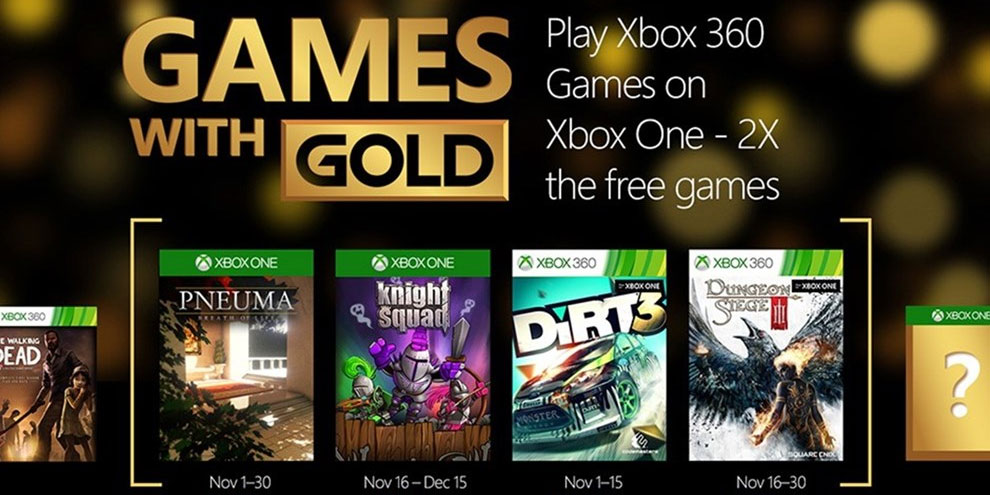 Os assinantes Gold da Xbox Live estão cada vez mais bem servidos pelo conteúdo que o serviço online traz. A retrocompatibilidade foi um dos maiores anúncios da Microsoft este ano, e o recurso começa a valer a partir de novembro. Todos os jogos da Games With Gold, a partir desse período, serão retrocompatíveis e poderão ser jogados no seu Xbox One.
Os títulos de novembro acabaram de ser divulgados no blog do
Major Nelson
, e a seleção foi escolhida a dedo. Mais uma vez, dois jogos de Xbox One e outros dois de Xbox 360 serão entregues aos pagantes do plano, totalizando, assim, os quatro títulos mensais que cumprem a tabela da família Xbox. A diferença agora, no entanto, é que você poderá jogar tudinho no seu Xbox One graças à retrocompatibilidade.
Os jogos para Xbox One são os seguintes:
Pneuma: Breath of Life, lançado em fevereiro deste ano, é um indie que traz muitos puzzles em diversas ambientações. O game estará disponível durante todo o mês de novembro;

Knight Squad é outro indie e traz ação multiplayer com "muitas espadas e coisas piradas". Ok, senhor Nelson, acreditamos. O jogo estará disponível a partir do dia 16 de novembro e vai até 15 de dezembro.
Já os títulos para Xbox 360 são os seguintes:
DiRT 3: consagrado entre os entusiastas, o título pertence à icônica franquia automobilística. O game estará disponível do dia 1 até 15 de novembro;

Dungeon Siege 3: RPG de relativo sucesso lançado em 2011. Pode ser uma ótima opção para testar o poderio da retrocompatibilidade, pois o jogo é bem bonito. Dungeon Siege 3 chega no dia 16 e vai até 30 de novembro.
Retrocompatibilidade chega no dia 12 novembro; veja lista atual
O cobiçado recurso do Xbox One chega ao console no próximo dia 12, junto com a nova interface da dashboard. Convém lembrar que já está disponível aos Preview Members da Xbox Live. A Microsoft prometeu mais de 100 títulos do Xbox 360 no console da nova geração assim que a retrocompatibilidade chegar.
Os jogos que fazem parte da novidade, divulgados até aqui, são os seguintes (lista atualizada):
A Kingdom For Keflings

A World Of Keflings

Alan Wake

Alien Hominid HD

Assassin's Creed

Assassin's Creed II

Assassin's Creed – Liberation HD

Assassin's Creed Brotherhood

Assassin's Creed III

Assassin's Creed Revelations

Banjo-Kazooie

Banjo-Kazooie – Nuts & Bolts

Banjo-Tooie

BattleBlock Theater

Battlestations: Pacific

Beyond Good & Evil

Bayonnetta

Bioshock

Bioshock Infinite

Borderlands

Brothers in Arms – Hell's Highway

Burnout Paradise

Calll of Juarez

Call of Juarez Gunslinger

Call of Juarez – Bound By Blood

Call of Juarez – Bound By Blood

CARS

Child of Eden

Civilization Revolution

Clash of Heroes HD

Crysis 3

Dark Souls

Dark Souls II

Dead Space

Defend Grid – The Awakening

Deus EX – Human Revolution

Doom

Driver – San Francisco

Dynasty Warriors 8

Endwar

Fable 2

Fable 3

Fallout 3

Far Cry 2

Far Cry 3

Far Cry 3 – Blood Dragon

Forza Horizon

Forza Motorsport 2

Forza Motorsport 3

Forza Motorsport 4

Gears of War

Gears of War 2

Gears of War 3

Gears of War Judgement

Geometry Wars Evolved

Ghost Recon – Advanced Warfare

Ghost Recon – Advanced Warfare 2

Ghost Recon: Future Soldier

Halo 3

Halo 4

Halo Anniversary

Halo – O.D.S.T.

Halo – Reach(adicionado e depois removido)

H.A.W.X.

Hexic HD

I Am Alive

Jetpac Refuelled

Just Cause 2

Kameo: Elements of Power

Killer is Dead

Mass Effect

Mirror's Edge

Monster High: New Ghoul in School

Ms. Pac-Man

N+

Need for Speed – Most Wanted

Ninja Gaiden 3

Pac-Man CEDX

Perfect Dark

Perfect Dark Zero

Prince of Persia: The Forgotten Sands

Prototype

Prototype 2

Rainbow Six Vegas

Rainbow Six Vegas 2

Rayman Legends

Rayman Origins

Risen

Risen 2

Risen 3: Titan Lords

Sacred 2: Fallen Angel

Sacred 3

Saints Row

Saints Row The Third

Shadow Complex

Shadowrun

Shoot Many Robots

Small Arms

Sonic Adventure 2

Soul Calibur IV

Splinter Cell: Blacklist

Splinter Cell: Conviction

Splinter Cell: Double Agent

Streets of Rage

Super Meat Boy

Toy Soldiers

Toy Soldiers: Cold War

Toy Story 3

Trials Evolution

Trials HD

Viva Piñata

Viva Piñata: Trouble In Paradise

Witcher 2: Assassins of Kings

Worms 2: Armageddon

Zuma
Cross-gen
Adventure Time: Finn and Jake Investigations

Call of Duty: Black Ops III

Destiny: The Taken King

Disney Infinity 3.0

Disney Universe

FIFA 16

Guitar Hero Live

Just Dance 2016

Kung Fu Panda: Showdown of Legendary Legends

Lego Dimensions

Lego Marvel's Avengers

Metal Gear Solid 5: The Phantom Pain

Metro 2033

NBA 2K16

NHL 16

NHL Legacy Edition

Peanuts Movie: Snoopy's Grand Adventure, The

Pro Evolution Soccer 2016

Rise of the Tomb Raider

Rugby World Cup 2015

Skylanders: SuperChargers

Tony Hawk's Pro Skater 5

WRC 5

WWE 2K16
Fontes